In 4 Training will develop participants skills and knowledge necessary to provide first aid response; life support; management of casualty(s); the incident and other first aiders until the arrival of medical or other assistance.
The Nationally Accredited 1st Aid course provided by In 4 Training (HLTAID011 – the most current First Aid course) teaches participants the necessary skills to administer first aid care that may be required in emergency situations, as well as the tools needed to help treat serious injuries and other ailments.
The CPR unit (HLTAID009) incorporated within the Provide First Aid / CPR course is valid for 12 months and must be renewed annually.
Refresher courses are also available at IN 4 Training. If you only require CPR certification? The CPR qualification is covered in the first 2 hours of the normal First Aid course – as per the dates and locations listed.
Those required by industry to act as First Aid Officers are may be deemed necessary under work health legislation.Those that are likely to come across accidents/incidents; who wish to learn first aid skills which may useful for employment purposes; who are interested in helping to promote health and well-being in the community.
New to be parents who are concerned about what to do if your child is hurt.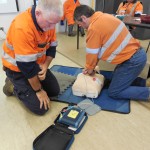 Almost every work place requires their team members to be first aid qualified.
Workplace first aider
Lifeguard
ERT (Emergency Response Team)
Volunteer community options.
Local football / soccer / Netball club.
Scout / Guide leaders
School events
Motor cross
Marathons
Rodeo's
There is no pre requisite for Provide First Aid or CPR.
1 x 10 hour day. The course is delivered is face to face.
This course has a combination of theory and practicals
(Note full weekend courses attract a 30% surcharge)
Mackay
Emerald
Rockhampton
Gladstone
Gold Coast
Provide first aid HLTAID011
Provide cardiopulmonary resuscitation HLTAID009
Some suggested pathways to further your emergency response capabilities.
Provide first aid HLTAID011 certification is valid for 3 years.
Provide cardiopulmonary resuscitation HLTAID001 certification is valid for 12 months.
We look forward to seeing you again for your next refresher.
---
---